Back
3S Lift Eclipses 500 Units of Climb Auto Systems in the US
Chicago, IL – 3S Lift is proud to announce the installation of 500 Climb Auto Systems in wind farms all over the US, adding to the 40,000 CAS installations worldwide. "We are very excited to see a growing number of North American owner/operators choosing our Climb Auto System to increase their park efficiency and improve the health & safety of their technicians" says 3S Lift Americas President Giovan Scialdone. "Installing our CAS enables our customers to improve turbine uptime and grow site technician morale at the same time. This improves employee retention which leads to significant operational cost savings."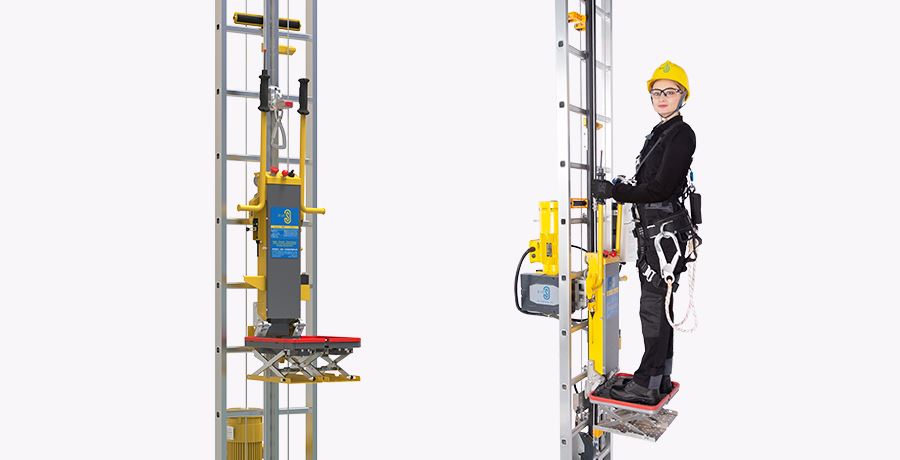 With 500 Climb Auto System installations in the US, 3S Lift has hit a milestone in the expansion of this new technology in the North American market. "We are seeing orders coming in from multiple types of customers, including self-performing IPPs, passive utility owners, and turbine OEMs," says Giovan Scialdone. "We are currently installing at five sites across three states at a rate of 30 units every week." The 3S Lift Climb Auto System is already a staple in many other regions around the globe, helping technicians ascend towers quickly and safely in 40,000 wind turbines worldwide.
With the 3S Lift Climb Auto System, ladder climbing is a thing of the past, allowing technicians to focus on the job, not on the climb. Using the CAS improves efficiency and prevents climbing-related injuries. This reduces the amount of sick-leave and extends the job longevity for wind technicians. With a large number of US windfarms now adopting the CAS, 3S Lift expects to see these positive effects all over the American wind industry, making a contribution to the health and safety of thousands of wind turbine technicians all over the country.
Climb Auto System Description:
The 3S Lift Climb Auto System is a single technician ladder-mounted lift that can transport personnel or equipment. This safe and cost-effective system improves health & safety by eliminating the need for climbing completely. It lets technicians focus on the job and not on the climb. Without the mental and physical strain of climbing, employee motivation is improved. Quick and easy tower access improves turbine uptime and saves costs.
The Climb Auto System can be installed to any new or existing wind turbine – often in 8 hours or less. Because the Climb Auto System is mounted to the existing ladder, the installation typically requires no changes to the wind turbine structures.
Technical Specifications:
| | |
| --- | --- |
| Rated load | Man load capacity: 140 kg (310 lbs) Freight load capacity: 60 kg (132 lbs) |
| Power supply | Single/3 Phase, AC, 220 V, 50/60 Hz (400 V optional) |
| Speed | 18 m/min (59 ft/min) |
| Dimensions | 415 x 390 1180 mm (customizable) |
| Certification | CE, ETL, compliant with OSHA |
About 3S Lift:
3S Lift Americas is a wholly owned subsidiary of 3S Lift, an industry leader with nearly 20 years of experience in design and manufacture of wind turbine safety and lifting/access equipment. 3S Lift Americas has offices in Chicago, IL, a shared training center in Mukwonago, WI, and a 10,000 square foot distribution warehouse in Dallas, TX. The company is focused on improving safety and longevity in the wind energy industry by selling, installing, and servicing 3S Lift products such as the Climb Auto System, Climb Assists, fall protection equipment, offshore cranes, auto descending devices and more. 3S Americas is 3S Lift's headquarters for its North and South America operations.
3S Lift offers a wide range of wind turbine tower internals, making us the one-stop-shop for everything from ladders to lifts, fall arresters and blade maintenance platforms. Worldwide, 3S Lift has supplied 40,000 Climb Auto Systems and 20,000 Service Lifts to more than 2,000 wind farms in 45 countries. 3S Lift has approximately 1,000 employees in office locations in Beijing and Tianjin, China, as well as subsidiaries in the US, Europe and India. The company cumulatively holds 380 patents and has obtained 340 product certifications around the world.
3S Lift is driven by a culture of safety and innovation. Our more than one hundred R&D engineers ensure that our solutions always fulfill our 3S brand promise: "safe, simple, specialized". 3S Lift is committed to driving innovation in the industry. Through continuous research and development for new equipment and services, we strive to support our
customers in creating clean energy for a sustainable future.
For more information please contact:
Giovan Scialdone
President
3S Lift Americas
+1-312-623-2662
Gio@3SAmericas.com