Back
New Record Of Climb Auto System Installations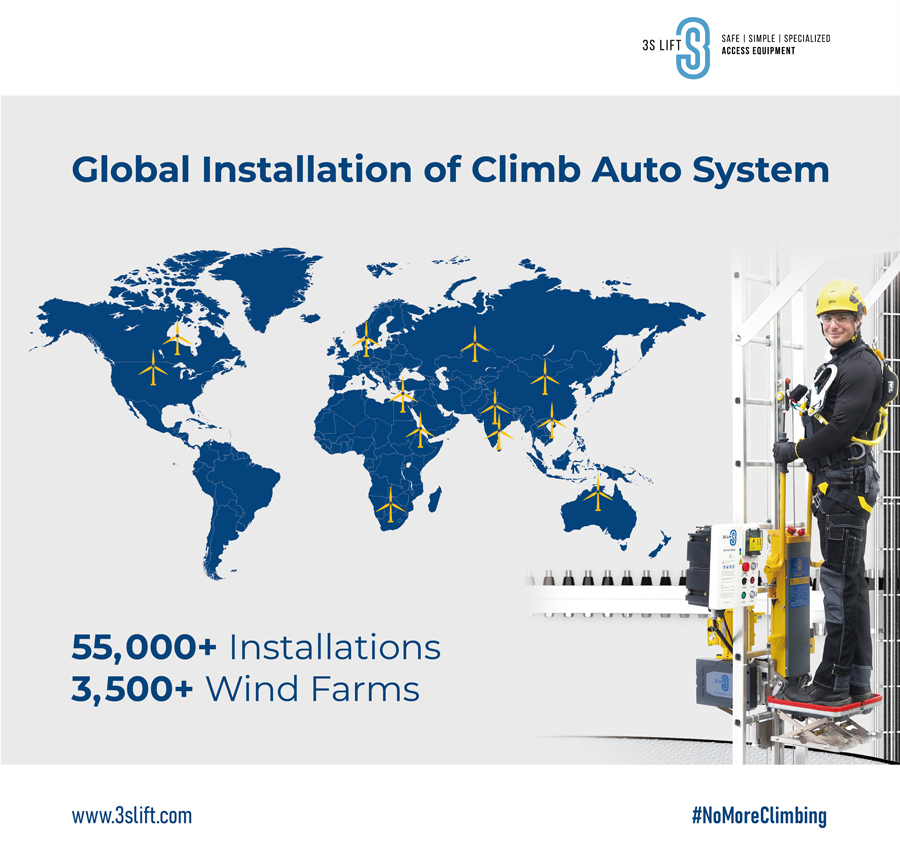 We're proud to announce that over 2,000 3S Lift Climb Auto Systems have been installed in North America and over 55,000 Climb Auto Systems have been installed worldwide.
Wind energy is now the cheapest form of new energy development in many places worldwide. The basic cost argument in favor of wind energy has been a major driver of its rapid growth in recent years, beyond environmental considerations. Wind farms now provide energy to millions of homes and businesses across the globe.
The Climb Auto System – an innovative single person ladder-mounted lift – was first introduced to the United States in 2018 at a wind farm in the state of Michigan. The CAS conveniently ferries technicians to the top of the tower in five minutes, eliminating the strain of manual climbing while also augmenting safety. With the CAS, technicians reach the nacelle fresh, alert, and ready to get work done.
To date, more than 2,000 Climb Auto Systems have been installed at more than 30 wind farms across North America, with more locations being added every month.
About 3S Lift
3S Lift is a provider of access equipment and services for people working at heights. 3S stands for safe, simple, specialized. 3S products are used in 45 countries and 12 industries around the world, among which the wind power segment has the largest market share globally. 3S Lift cumulatively holds more than 500 patents and more than 80 global safety certifications. The company has subsidiaries in Dallas in the USA, Hamburg in Germany, Chennai in India, Beijing and Tianjin in China. The total number of employees is more than 750, with more than 300 engineers. 3S Lift, Serving Hard-working People.
For more information please contact:
Giovan Scialdone
President
3S Lift Americas
+1-312-623-2662
Gio@3SAmericas.com